Regular price
Sale price
$10.50 USD
Unit price
per
Sale
Sold out
Nourish body oil is great for all skin types in need of clean and natural nourishment. It can be used as a moisturizer or for massage. This body oil absorbs very quickly into the skin, leaving it glowing but not greasy. It can be used from head to toes.
There are two options to choose from; 
Unscented and Scented with Lavender and Frankincense Essential Oil
4 fl oz bottle.
For external use only
Store in a cool place
- Used within 9 months from date of purchase.
Ingredients: Vitis Vinifera (Grape) Seed Oil,
Simmondsia Chinensis (Jojoba) Seed Oil, 
Prunus Amygdalus Dulcis (Sweet Almond) Oil,
Tocopherol (Vitamin E) oil.
Directions: Nourish body oil can be used daily to expose your silky, gorgeously glowing skin. After washing or bathing, apply a small quantity to damp skin and smooth it out to lock in moisture. Because it deeply nourishes the skin and gives it a dazzling appearance, this body oil is best used for body moisturization and massage.
GRAPESEED OIL: Grape seed (Vitis Vinifera) oil is derived from the seed of grapes and they are packed with antioxidants like vitamin A, vitamin C, and vitamin E. They also contain omega fatty acids and amino acids. This oil is light and easily absorbed by the skin. Grapeseed oil contains linoleic acid which is vital to strengthen the membranes of skin cells as well as nourish dry skin. Since they are Packed with antioxidants and rich in Vitamin E, grapeseed oil offers a range of benefits for your skin such as lightens acne scars, evens skin tone, supports collagen, minimizes fine lines and wrinkles and is suitable for all skin types.
JOJOBA OIL: 100% Pure Jojoba Oil is derived from the seed of the jojoba (Simmondsia chinensis) shrub and is one of the most popular cosmetic oils available today. Its high stability and cosmetic versatility make it ideal for all skin and hair types. Jojoba oil moisturizes skin while providing a soft, silky feel.
SWEET ALMOND OIL: 100% Pure Almond Oil is a natural oil that's perfect for nourishing and reviving any skin type. Almond oil is easily absorbed and won't clog pores, promoting clear, soft, healthy-looking skin. This natural skin-nourishing oil is ideal for the entire body. Almond oil is a natural oil derived from pressed almonds. It has excellent penetrating qualities and good spreadability on the skin, making it ideal as a massage oil. 
Vitamin E Oil: This has numerous benefits to the skin and has been linked to rapid and enhanced cellular repair, may help to improve symptoms of eczema and reduce signs of aging. 
Lavender Essential Oil: Lavender oil is believed to have antiseptic and anti-inflammatory properties, which can help to heal minor burns and bug bites. Research suggests that it may be useful for treating anxiety, insomnia, depression, and restlessness.
Frankincense Essential Oil: Frankincense essential oil is used to reduce the signs of aging such as wrinkles, lines and sagging skin. 
***Please read all ingredients to make sure you are not allergic. Perform a patch test and discontinue use if reaction occurs.
***This product has not been approved by FDA. The information provided on this site is for informational purposes only and is not meant to be a substitute for medical advice or to diagnose, treat, mitigate, or prevent any condition.
Please feel free to contact us with any questions, Thank you!
Share
View full details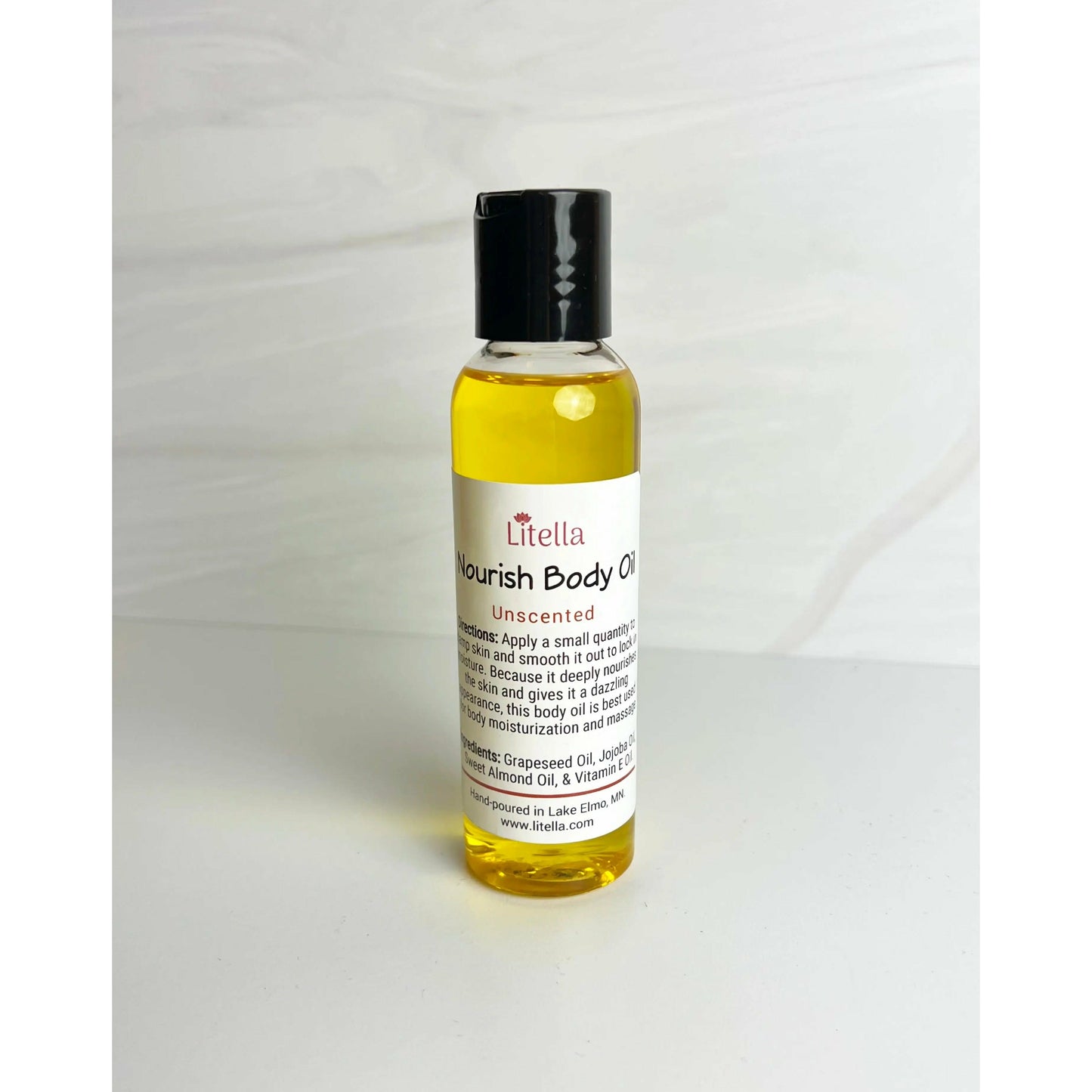 Amazing Body Oil
This body oil is very moisturizing without leaving an oily feeling to the skin. Great product will buy again.
Amazing Body Oil
This body oil is very moisturizing without leaving an oily feeling to the skin. Great product will buy again.